Galesburg

High School




Class Of 1973
WELCOME!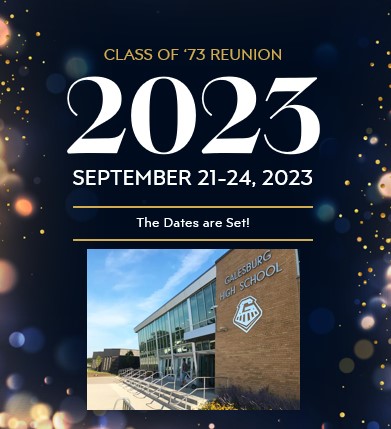 Official Galesburg High School Class Of 1973 website!
SCROLL DOWN FOR NEW ANNOUNCEMENTS!
Stay connected, post photos, and please help us contact missing classmates
Post your own reunion pictures in our Photo Gallery!
ANNOUNCEMENTS
AGENDA and Recap of 50th GHS Reunion Meeting
Held on 9/21/2022
RECAP of VOTING & DATE PREFERENCE
We had about 15 attendees physically at the meeting or via ZOOM.
This recap is going to be posted on the GHS73.net site and in Facebook. That way members of that Facebook group can comment on this recap. Comments welcome as are ideas.
Based on the votes – the 50th GHS Reunion will be held in Fall of 2023, the dates September 21 (Thursday) to September 24 (Sunday). This date coincides with the High School Reunion week.
REVIEW OF VENUES
There was a list of suggested venues from the previous meeting and there was subsequent discussion on the following:
Cedar Creek on North Street. Inclusive banquet space as they provide tables, chairs, linen, etc. Nice venue. Outside catering allowed. Very receptive to having and event there and currently, the Saturday night [September 23] is available.
https://cedarcreekhallevent.com/
Orpheum Theatre. An idea to have the Friday night event there as during the summer – the staff was having "Speakeasy" parties. You would enter through the back door, use a password to get in and there would be drinks. This is an outside chance to happen but they don't have a large staff so it's up in the air.
https://www.galesburgorpheum.org/
Iron Spike – A consideration for Friday night or Saturday – a more casual space. This would be upstairs [there is an elevator] but it is under re-model so they are not taking any reservations as of now. They are also creating a banquet menu as they never had that before. It's a great building.
https://www.ironspikebrewpub.com/
Galesburg Community Art Center. This is the remodeled Antique Mall/Oddfellows building on Main street. It has a 3rd Floor Ballroom, full kitchen and serves as an art gallery, art classes, Jazz nights, etc. This building was donated to the GCAC last year and it is also very nice. Again – outside catering allowed. They do have to rent the tables/chairs though as they do not provide. This has potential for either Friday or Saturday night.
https://www.galesburgarts.org/
The Prairie Players building on Seminary. This was an added idea that came up during the meeting so it was not investigated prior to the meeting. It's on the list as a potential. https://www.prairieplayers.com/rent-our-facility.html
Cherry Street is out as the back room is being converted to a micro brew area.
Lake Storey Pavilion. Limited discussion on that as unless we get someone to host the bar area that has a full liquor license, we would be regulated to beer/wine. We would have our choice of caterers. It is very reasonably priced though. https://www.ci.galesburg.il.us/government/parks_and_recreation/facilities/lake_storey_pavilion.php
Soangataha Country club. This venue is dated but their catered food is quite good [attended a Costa Reunion there]. The space could be used but it's been going back and forth if they are going to remodel, rebuild, etc. Still on the list as a potential
https://www.soangetaha.com/default.aspx?p=DynamicModule&PageId=1&ssid=100001&vnf=1
The Vault Artesian Ales. Galesburg's newest banquet space and it is amazing. This is the old car dealership building on Kellogg and Tompkins and it is amazing. More than adequate space and again, we can have outside caterers.
https://thevaultgalesburg.com/
Thursday night September 21, 2023?
IT was discussed that some locals or others who may come in early – it would be nice to have an informal evening/get together. Suggestions were to meet at some of the larger bars/food offering spots like Cherry Street, Iron Spike, The Vault [The GHS Marching band multi-year reunion used the vault for that purpose], etc.
Or – do a "Pub Crawl" on Thursday.
SINCE this is the same weekend as the GHS High School Reunion/Football game/Parade/Dance – apparently the High School would love for us to be in the parade again, attend the Game, etc. SO – right now it was suggest that we ENTER A FLOAT so Thursday Night would be a "Float Party". Work on a float, have refreshments [yes that means drinks] and knock something out that could be in the parade. At our 45th Reunion, being in the parade was a hit. More on this later as we would need someplace to meet and build.
Saturday Night –
Peter Anderson who's business is catering large events offered up his idea to make Saturday more special. Peter was willing to chip in linen, center pieces and other banquet expertise. He is putting a proposal together of the committee's consideration to make Saturday a bit more formal. Thank you Peter.
Other items discussed.
Football Game Tailgate party? Before the High School game, obviously NOT at the High School be maybe a couple of hours before at an outdoor Pavilion/or area. Maybe Picnic Point Soangataha? There can be "refreshments" there.
Football game attendance. Totally up to individuals to attend the High School Game. The Friday night meeting event would start either before the game or at the same time
Please keep your address and email address updated. If you have access to this site - you can update your own Contact Info and Profile Info. We will rely on email and the internet to keep you all informed as to the progress on our 50th reunion in 2023. At this point - we have not made any final decisions on the date and will soon be having our first official committee meeting. Also, we ask for your help to spread the word about current addresses and email updates. If you have knowledge of other classmates, please let us know. We are going to do all we can to find every classmate for the 50th reunion. It will take everybody's help over the next year for this to happen. Also there is a survey in Facebook about WHEN to have the reunion - if you haven't yet - go there to click on your choice. You can also "change" your vote by just clicking on another time of year. We are going to start meeting soon to hammer out details. IF you chose not to be on Facebook, send me an email with your "vote". Here is my email: spodwo@gmail.com .
Thank you!
Stephen Podwojski
Our Facebook Page:
GHS Class of 73 - Still Crazy After All These Years
Click Here to Go to Our FACEBOOK PAGE
---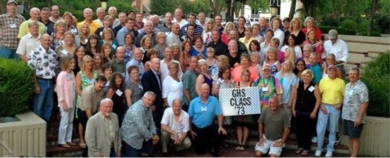 Seems appropriate to listen to this.....
"Still Crazy After All These Years"